Fishing Mexico Beach
Some of the best fishing in the State and Gulf is right here out of Mexico Beach. Whether you surf, pier or kayak fish the local waters or enjoy heading out to all of our offshore wrecks and structures. Our ship store has all you need to get started.

Fast and Easy Fishing License:  https://license.myfwc.com/Customer/CustomerLookup
* You can also call (888)347-4356 and get it by phone.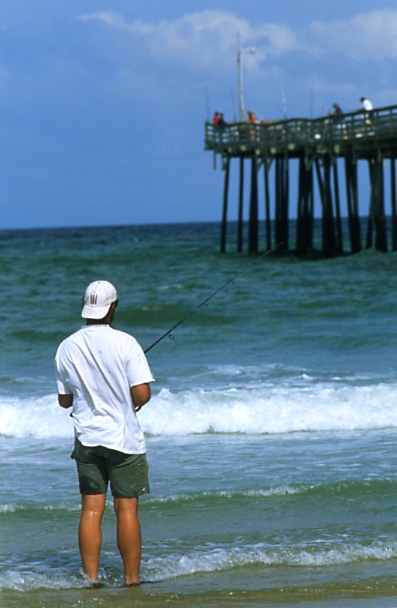 Popular local fishing spots include surf fishing along the sugar white beaches, the newly renovated and extended Pier and Canal Park. Fishing from the beach does require a Florida fishing license for anyone 16 years of age and above. Mexico Beach does offer a city license for the Pier and Canal Park, which can be purchased in our ship store for only $5.00. On the beach and from the Pier, depending on the time of year, you can expect to get a cooler full of Pompano, Whiting, Flounder and Sharks. The Canal Park is also a great place for Flounder and catching bait fish. The Fall brings in many fishermen who line the canal for Trout and Redfish.
Be sure to check the Fishing Regulations periodically, as they change frequently.
http://myfwc.com/media/2075522/saltwater_regulations_chart.pdf
Fishing Reports    05/19/15- Pompano showing up in good numbers along the beaches and in deep water channels, spanish mackerel everywhere with a few kings being caught. AJ bite continues to be strong. Baitfish showing up. Several boats coming in with red grouper and scamp as well. Trout and redfish also turning on in Bay and Crooked Island. Vudu shrimp free lined seems to do the trick. Triple tail also making an early showing.  Book your red snapper charters now! Fishing report compliments of Captain Fred Erickson of Wicker Bills Charters www.wickerbillsfishing.com. We have made some changes and have expanded our tackle department so come on in and check it out.
Currently have live shrimp and will have bull minnows and pin fish once spring is here. Also, don't forget our  broad selection of frozen bait ( sand fleas, cut bait, cigar minnows, northern mackeral, squid,ribbon fish, menhaden/pogeys, chum, ballyhoo ( rigged,unrigged and selects ) and rigged mullet. We are now a dealer for Just Rite Bait's (Specialty rigged baits; Ballyhoo, goggleyes,flying fish, horse ballyhoo and more). We can pack and ship as well. SPECIAL SALE on Bandit Buoys $38.95 !!!!!
FLY FISHING/LIGHT TACKLE: (Tarpon,Tripletail,Pompano, Redfish or Jack Crevalle)
* Captain Fred Erickson of Wicker Bill's Guide Service: (850)229-2710 (850)527-4036 http://www.wickerbillsfishing.com/ 
* Captain Darrell Key of Low Key Charters: (318)372-9326   captnkey@yahoo.com    
* Captain Jeff Schneider of http://www.strikezonefishingadventures.com/crew.html Jeff (913) 530-4562 (Jeff also  offer's guided kayak fishing trips). 
* Captain Tom Adams of www.mexicobeachcharters.com   (850)381-1313
Kayak Rentals and Guided Kayak Fishing:
We now offer Kayak rentals. Enjoy some of the most scenic back country and secluded beaches that Florida has to offer in St. Andrews Sound/Hurricane Cut/Crooked Island. Come enjoy a day of shelling along with exceptional fishing.DAILY RATES: Single $40.00 Double $50.00.
* CALL MARINA TO SET UP A GUIDED KAYAK FISHING TRIP. 
Map to Marina, Public Boat Ramps, and Trailer Parking

View Fishing Mexico Beach in a larger map